4th Annual Allie's Sale: October 6th-8th, 2016
Donate, shop, and stop pediatric brain cancer!
Allie's Sale is a massive three-day charity garage sale held in memory of Allie. The sale is held every October in honor of Allie's birthday. The sale features over ten thousand great items, raffle items, and food that are donated by local families and businesses. All of the money raised by the sale is donated to the Children's Brain Tumor Family Foundation. The sale showcases the generosity and kindness of the local community while giving hope to the families affected by pediatric brain cancer.

This year, we are thrilled the sale is being hosted indoors at Valley View United Methodist, at 95th and Antioch in Overland Park. We will be serving hot dogs, brats, chips, and snacks at lunch!
Can't Shop Allie's Sale?
If you can't shop Allie's Sale this year, you can still support the sale by making a donation. We appreciate any amount you are willing to donate to support pediatric brain cancer research.
There are 19 fantastic raffle items that you can win at Allie's Sale! Raffle tickets are $2 each or 10 for $10!
4 Crown Seats to a 2017 Kansas City Royals Game (Limited Ticket Raffle)
$1000 Window World gift certificate
Limited Edition Royals World Series Baseball Bat
Boulevard Party-At-Home (w/ 4 cases of beer)
Fitbit Surge
Handmade Kansas City Royals wooden bag toss game
Kansas City Chiefs Tickets
Sporting KC Tickets (4-Pack)
$100 American Express Gift Card
$100 Beauty Brands Gift Card
Chipotle Gift Cards & Jason's Deli Gift Cards
Royals World Series Gift Pack (Trophy, Bobblehead, Hat, Flag)
$100 Gift Certificate to Sugar Beats Bake Shop
Complete set of Unicorn SPiT Stains & Finishes
1 Year Family Membership for the Museum at Prairie Fire
Waterway Clean Car Club Membership (6 months)
3 Handmade Princess Dresses
Kids Tent from The Gabled Nook by Ashley Westhoff
3 Dozen Custom Made Cookies
Eye exam and contact lens fitting from Noyce Family Eyecare
Allie's Sale is looking for sponsors to help make this the best Allie's Sale! If you know of a business or foundation that would be interested in sponsoring the sale or donating raffle items, please reach out to them. A single gold level sponsorship ($1000) is the same as having volunteers sort, price, and prepare over 750 items at $2 an item! Sponsoring the sale is fantastic way to raise the profile of your business in the local community while making a difference for children with brain cancer.
Allie's Sale Sponsorship and Raffle Letter and Form
Click here to be a sponsor for Allie's Sale!
Our neighbor, Tricia Nelson, hosted the first Allie's Sale in 2013, as a way to honor Allie on her birthday. She collected donations from our neighbors, her friends, and her church. She hoped to raise a few hundred dollars from the sale and donate it to the Children's Brain Tumor Project. There was one raffle item in that sale; Allie's bike she never got to ride. It was a Christmas gift the year before. The sale was bigger than we ever expected. After three days, the first Allie's Sale raised $4,500.
The second year, the sale was much bigger, including pricing of over 5000 soft items such as clothes, bedding, and stuffed animals. There were great raffle items, fantastic food, and the incredible support from our generous corporate sponsors. Neighbors and friends worked for months on nights and weekends to sort, prepare, and price all the sale items. In the end, the sale raised $24,000.
Last year's sale was even bigger and moved out of the neighborhood. Held at Grace Covenant Presbyterian Church, there were nearly 10,000 items donated by hundreds of donors and over one hundred volunteers who helped sort, price, and sell the items. Thanks to them and our sponsors we raised a record $33,000!
4th Annual Allie's Sale
October 6th – 8th, 2016
7:00 AM – 6:00 PM
Valley View United Methodist
8412 West 95th Street
Overland Park, KS 66212
Quick Links
Allie's Sale Flyer (PDF)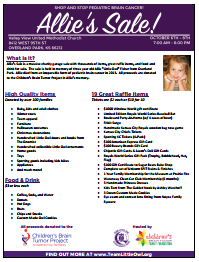 Allie's Sale Sponsorship and Raffle Letter and Form
Allie's Sale Sponsorship Online Donation Form
Gold Level Sponsors
BATS Global Exchange
Capital Resources
CapSpecialty
Command Alkon
Rodrock Homes
Tickets For Less
VanTrust Real Estate
Silver Level Sponsors
Cindy Bahmler – Keller Williams
KMB CPA
MedTrakRx
symplr
Bronze Level Sponsors
ALH Home Renovations
Bell and Associates
Centriq Training
Creative Planning
Noyce Family Eye Care
ProPharma Group
Tria Health